ROOT SPRAY
40 produits trouvés
ORS Brillantine en Spray Enrichie à l'Huile d'Olive 472ml
Le Spray Brillance Nourrissant à l'Huile d'Olive est une lotion non huileuse redonnant de l'éclat, conçue pour restaurer l'équilibre naturel d'hydratation des cheveux. Un mélange de Vitamine E, d'huile d'Olive et...
Plus d'infos
Organic Root Stimulator Classics l'Huile de Théier Spray Anti-Bump 133 ml
Helps to prevent bumps and irritation;Helps to eliminate in-grown hair;Can be used daily to treat bacterial growth
Plus d'infos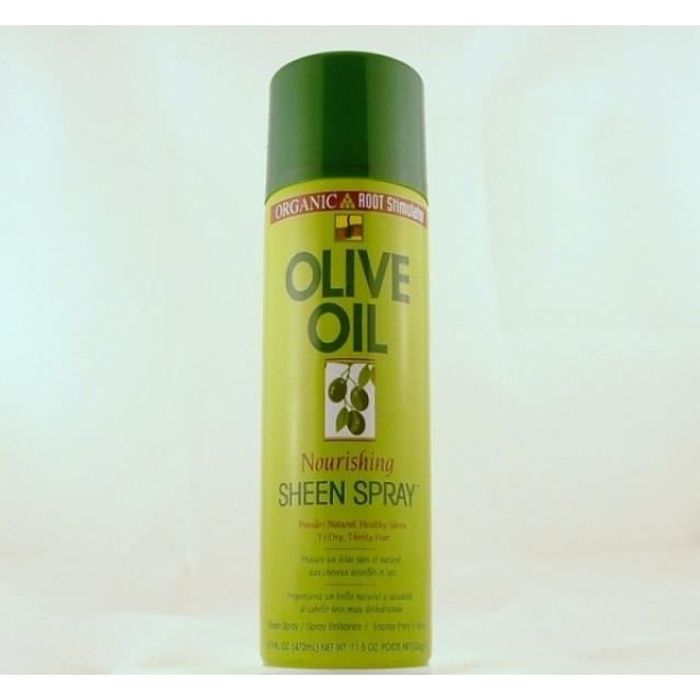 SHEEN SPRAY OLIVE OIL brillantine naturelle pou…
SHEEN SPRAY OLIVE OIL brillantine naturelle pour cheveux - sheen-spray-olive-oil-bri llantine-naturelle-pour-c heveux… Voir la présentation
Plus d'infos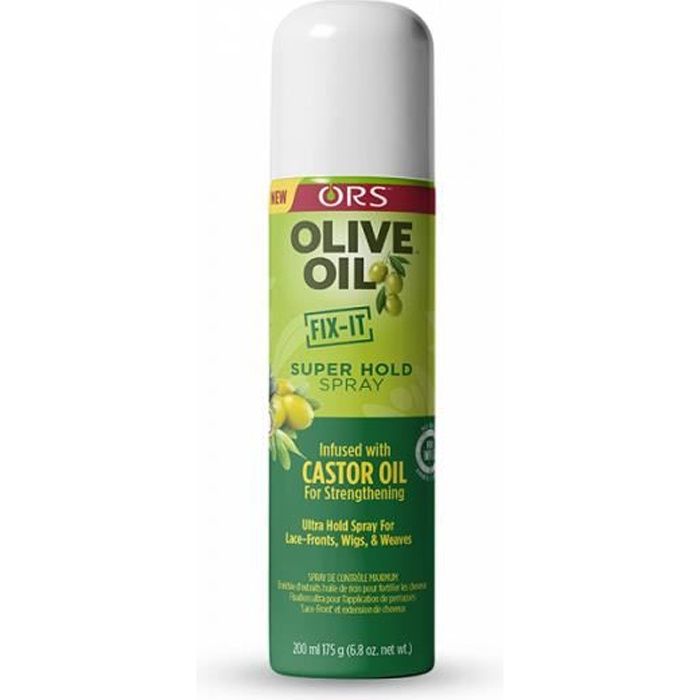 ORS Olive Oil Fix-It Super Hold Spray
Le spray Olive Oil super fixante de ORS est un incontournable. Désormais portez des laces frontales durant une activité sportive ou par temps de pluie sans aucune crainte. Ce spray à la fois très résistant, nourrit...
Plus d'infos
Spray Volume Alive Roots 175 ml
Spray volumateur de racines aux protéines de blé qui apporte un maximum de volume depuis les racines des cheveux en maintenant leur flexibilité et en laissant les cheveux plus maniables. Sa combinaison d'actifs fixe...
Plus d'infos
Root Canal Base Support Spray 200 ml
Sweet-scented and nutrient-rich, the Nubian Heritage Coconut & Papaya Collection pays homage to the bounty of natural tropical ingredients. The coconut palm has touched all aspects of daily life for millions of tropical...
Plus d'infos
Giovanni Root 66 Volumizing Spray (1x8.5 Oz)
Sexy Hair Big Sexy Root 300ml pompe Spray Mousse
Cette mousse aide à créer du gros volume en gonflant les cheveux à la racine. Elle se distribue en spray et se transforme en mousse pour donner aux mèches un grand volume. Appliquer sur des cheveux humides à la...
Plus d'infos
Cotril Creative Walk Volume Roots Spray 200ml - Volume De Pulvérisation Des Racines
Spray de racine qui donne un volume et une plénitude maximum. Une combinaison parfaite d'ingrédients fonctionnels conçus pour favoriser le soutien et la force des racines aux pointes. INGRÉDIENTS COLLAGÈNE: il...
Plus d'infos
Kallos Cosmetics Kjmn Root Lift Spray Mousse 400 g
Cette mousse volumisante de KJMN est adaptée pour tous les types de cheveux, surtout fins, sans vie. Sa formule soulève le cheveu de la racine, sans alourdir. Utilisation: Agiter avant emploi. Appliquer du produit sur...
Plus d'infos
Revlon Style Masters Roots Lifter Spray Traitement des Cheveux
¡Si quieres mejorar tu imagen y realzar la belleza de tu cabello, Spray de Volumen para Raíces Style Masters Revlon te será de gran ayuda para lograr tus objetivos! Disfruta de los beneficios y las ventajas de los...
Plus d'infos
L'ANZA 17507B Healing Volume Root Effects
Supports hair at the base for extra lift, style support and fullness. Volumizing Mousse Thermal Protection: up to 250°C Control: 7 of 10 Cactus Extract provides thermal protection from heat styling. Apply directly at...
Plus d'infos
Sexy Hair Laque capillaire Root Pump - Offre un maximum de volume - 313 ml
Spray mousse that volumizes by pumping up the root.;It dispenses out as a spray and turns into a mousse to give tresses tons of volume.;It also protects hair from humidity to keep style from going flat.;Delivers medium...
Plus d'infos
KMS California Addvolume Root and Body Lift Crème hydratante 200 ml
KMS Add volume Root and Body Lift 200ml Spray VolumePOURQUOI EST-IL SI UNIQUE ? Décolle les racines et offre un volume ciblé Apporte jusqu'à 70 % de volume en plus Assure un volume longue durée au niveau des racines...
Plus d'infos
Goldwell STYLESIGN Ultra Volume Double Boost Intense Root Lift Spray 100 ml
Intense approche Volume Spray. Précisément cheveux fins nécessaire pour soutien volumineux et gonflant.Il renforce les approches et apportera volume immédiate. Il y aura un look sur les approches handtuchtrockenem de...
Plus d'infos
Salon in a Bottle Root Touch up Hair Spray Red Auburn by Salon in a Bottle
Mane Hair Thickening Spray - for Hair Loss and Thinning Hair and to cover grey roots-Grey 200 ml
- 34 %
Salerm Volumen Spray Root Lifter Traitement des Cheveux
Salerm Pro Line Volumen Spray 250 ml. Desafía al cabello fino y poco denso y consigue aquel peinado con el que nunca te atreviste. Volume Spray Pro·Line es un spray voluminizador de raíz de fijación media que...
Plus d'infos
Ginseng Root Cologne Spray - 120ml/4oz
This product is brand new in retail packaging. Not vintage, nor a tester. Gift Suitable. All products are original, authentic name brands. We do not sell knockoffs or imitations.
Plus d'infos
L'oreal - EXPERT VOLUMETRY ROOT SPRAY 125 ML
volume expansion of hair
Plus d'infos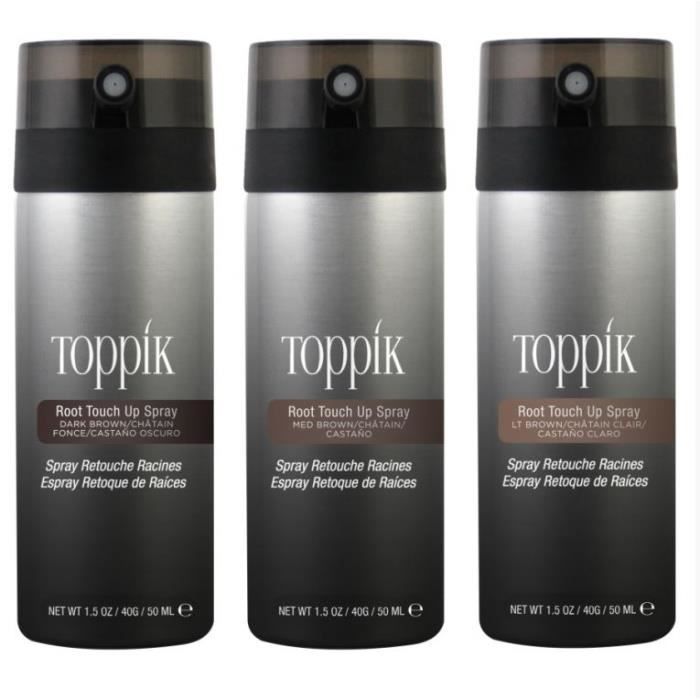 Toppik Root Touch Up Spray Brun Clair
Votre salaire minimum de peinture pour retouche de racines kunt u in slechtsenkele "sprays" ervoor zorgen dat de grijze haren en / of uitgroei niet meer te zien is.
Plus d'infos
Palmers Coconut Oil Strong Roots Spray 150 ml
Palmers Coconut Oil Formula Strong Roots Spray 150ml
Plus d'infos
Magic Retouch - Instant Root Concealer Spray Marron 75 ml
Magic retouch - instantanée racine anti-cernes spray brun 75 ml
Plus d'infos
Spray volume racine Root Lifter - 250ml - Extreme Volume - Fins et Plats - Volume - Osmo
Achieve noticeable body and fullness where you need it most with Extreme Volume Root Lifter. This weightless formula with extracts of Soyabean Oil and Rice Protein fortifies the hair and encourages volume for...
Plus d'infos
Palmer's Coconut Oil Formula avec vitamine E Strong Roots Spray 150 ml
Palmers Coconut Oil Formula Strong Roots Spray with Vitamine E to Moisturize your hair and Scalp, freshens Hair and it Soothes tightness as well as ITCH.
Plus d'infos
L 'Oréal Paris Perfect instant enhancing spray retouch roots biondo chiaro
Spray instantané retouches, racines. replantés disparu en quelques secondes.Va sur avec un shampoing.Une invitation à dîner de dernière minute ? Rencontre imprévue ? Toujours de course et tu n'as temps de refaire...
Plus d'infos
- 14 %
Catwalk by Tigi Root Boost Spray volumisant pour cheveux fins 243 ml
FOR LIFT AND TEXTURE FEATURES. Sweet Almond Oil, Lavender. BENEFITS. Adds maximum lift without heaviness. TIGI CREATIVE TEAM TIP. Section off hair and concentrate spraying onto roots for lift, then blow dry.
Plus d'infos
Sexy Hair Big Sexy Root Pump Spray Mousse pour Unisexe 1.06 oz 47.32 ml
Oribe Styling Airbrush Root Touch-Up Spray Light Brown 30ml - correcteur racines châtain clair
Salon in a Bottle Root Touch up Hair Spray Light Brown by Salon in a Bottle
Mane Hair Thickening Spray/Root Concealer - TRAVEL SIZE - 100 ml Light Brown - Twin Pack
Mane Hair Thickening Spray/Root Concealer - TRAVEL SIZE - 100 ml Mid Brown - Twin Pack
Mane Hair Thickening Spray/Root Concealer - TRAVEL SIZE - 100 ml Black - Twin Pack
Salon in a Bottle Root Touch up Hair Spray Medium/Dark Brown by Salon in a Bottle
Mane Hair Thickening Spray/Root Concealer - TRAVEL SIZE - 100 ml Dark Brown - Twin Pack
Palmer's Coconut Oil Formula Strong Roots Spray 150ml by E.T Browne
Mane Hair Thickening Spray - for Hair Loss and Thinning Hair and to cover grey roots-Silver 200 ml
Mane Hair Thickening Spray - for Hair Loss and Thinning Hair and to cover grey roots-Auburn 200 ml
Mane Hair Thickening Spray by Mane UK - for Hair Loss and Thinning Hair and to cover grey roots Medium Brown
Mane Hair Thickening Spray by Mane UK for Hair Loss, Thinning Hair, to cover grey roots - Light blonde