Lotions Lightening
21 produits trouvés
San Kojie Body Lotion éclaircissante SPF 25 VA/UB large spectre - grand 250ml bouteille
Nur76 Skin Lightening Body Lotion
White Luxury Paris Carrot Lightening Milk Deluxe by Francoise Bedon
500ml Luxury Lightening Carrot Body Lotion for uniform skin complexion. Treats Cleanses and Removes Skin Imperfections.
Plus d'infos
Mama Africa Latte Corpo Lightening Lotion 500 ml
Mama Africa Lotion éclaircissant Latte entreprise effectively corrects The hyperpigmentation markings on the skin. Its formulation with natural blanchissant agents lightens moisturizes and nourrit la The Skin. 500 ml
Plus d'infos
Pr. Fran coise Bedon Supreme Lightening Lotion 500 ml
Pr. Francisco coise bedon Supreme Lightening Lotion Adapted to Black and Half caste Skins, is Perfumed by it 100 Percent Natural plants and formulé pour l'huile d'argan. This Formula Treats and helps to eliminate Scars...
Plus d'infos
OPALYA Concentrated Lightening Moisturising Milk Ultra Strong 500 ml
Formula AHA Medicated Lightening Body Lotion (500ml) by Formula AHA.
Swiss souple n Blanc Papaye Lightening Lotion teint encore plus léger de blanchiment / Swiss Soft n White Papaya Lightening Lotion Even Lighter Skin Tone Whitening
Tous les avantages de la gamme Soft'n White sont maintenant dotés des qualités nourrissantes pour la peau de Papaye. Ces produits aident à réduire les taches sombres et éclaircir la peau, révélant un teint plus...
Plus d'infos
VLCC Mulberry Lightening Body Lotion FPS 15 UVA & UVB 200 ml
For smooth, healthy & radiant skin.;This light, velvet-like lotion is enriched with natural Mulberry fruit extracts which is a botanical skin lightening agent.;Regular usage lightens skin tone making it visibly fairer...
Plus d'infos
SOFTnWHITE n Blanc Suisse Papaye Lightening Lotion « Douce Vitamine e enrichi 500 ML
Aliya Paris Carotiq Carrot Intense Lightening Lotion Anti-aging - 16oz by Aliya Paris
UV SKIN WHITENING LIGHTENING BLEACHING MILK LOTION CREAM EXTRA KOJIC, ARBUTIN, NANO WHITE GLUTATHION 500ml. by A BONNE
A BONNE MIRACLE SPA LAIT DE BLANCHIMENT UV PLUS LOTION TOMATE extrait naturel FERMETÉ blanchissement naturel naturelle et douce et rayonnante. ** EXTRA KOJIC BLANCHIMENT ** Une formule innovante de concentré lotion...
Plus d'infos
Kojie San Lightening Lotion pour le corps avec SPF 25 VA/UB Large Spectre – Bouteille de 50 ml (Petit) Protège la peau des rayons UV, la Se battre les signes du vieillissement.
GlutaMAX Lightening Lotion with Glutathione by GlutaMax
GlutaMax Lightening Lotion w/Glutathione (100ml) by GlutaMax
Biotique Morning Nectar Lightening and Nourishing Lotion SPF 30 UVA/UVB
This nourishing and brightening lotionis blended with pure honey, wheatgerm and seaweed. Replaces natural oils and replenishes lost moisture. Softens and brightens skin for a noticebly fairer complexion. Protects skin...
Plus d'infos
Biotique Morning Nectar Lightening and Nourishing Lotion for All Skin Types
This lightening and nourishing lotion is blended with pure honey, wheatgerm and seaweed. It sinks into skin to replace natural oils and replenish lost moisture for a noticeably fresher, fairer complexion.
Plus d'infos
Kojie San Body Lightening Lotion - Large 200g Bottle by Kojie San
ACHIEVE A HEALTHY & BEAUTIFUL COMPLXION: Kojic acid acts a melanin inhibitor gradually lightening skin promoting a healthier and more youthful look.;ALL NATURAL ACTIVE INGREDIENTS: Rose Hip Oil contains vitamin A and C...
Plus d'infos
Kojie San Total Skin Lightening Set - Soap, Lotion, Cream & Toner Great for all Skin Types!
- 37 %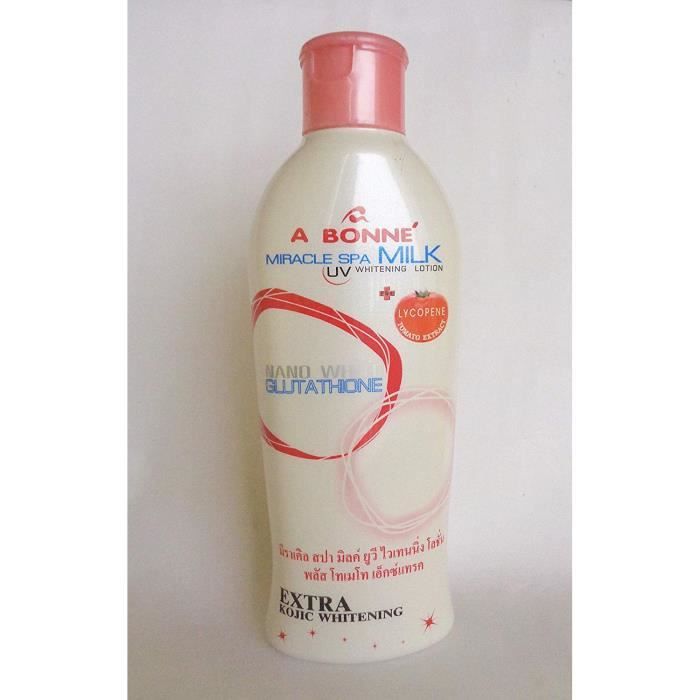 Peau UV blanchiment Blanchiment Lightening Lotion Lait Crème extra Kojic, Arbutin, Nano blanc glutathion 200ml.
Miracle lait spa uv blanchiment de la peau lotion supplémentaire, blanchissant ainsi kojique tomate extrait 500ml. - Natural raffermissant, blanchissant naturel, Natural Smooth & Radiant, Body Spa, de protéines de...
Plus d'infos
Glowlight Made in UK Skin Whitening & Lightening Cream Lotion for Age Dark Spots, Acne Scars, Scars, Stretchmarks & All Round Brighter Radient Skin 50g (Choose Quantity) (1 Tub x 50g)
Glowlight Made In UK Skin Whitening & Lightening Cream Lotion for Age Dark Spots, Acne Scars, Scars, Stretchmarks & All Round Brighter Radient Skin 50g (Choose Quantity) (1 tub x 50g)
Plus d'infos